New Libassi Endowment Fund Supports Wheeler Innovation and Growth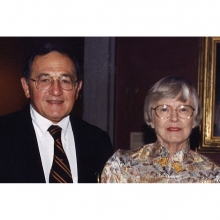 November 18, 2015 – Innovation and the willingness to embrace and drive change exemplify Peter and Mary Fran Libassi's value system. As a reflection of their passion, and dedication to supporting Wheeler's culture of innovation, the Libassis made a commitment to bestow a $500,000 legacy gift to Wheeler. Their gift will establish the Libassi Endowment Fund for Innovation as a planned gift through their charitable remainder trust.
"This contribution supports Wheeler's commitment to nurture change and create new approaches to care and service delivery based on the needs of the community," said Mary Fran. "When you see something in the world that needs to change, you have a responsibility to help shape and drive that change. Not every idea will be successful, but it's critical to make the effort."
Trailblazers in their careers and communities, the Libassis have supported Wheeler for decades. Mary Fran, a former social worker and professor at the University of Connecticut School of Social Work, served on the Wheeler Board of Trustees for many years and as board chair. She and Peter established the Mary Fran Libassi Education and Training Fund to support education and training of social work students and Wheeler professionals from 2000 to 2014. During this period, 14 scholarships were awarded to second-year University of Connecticut Social Work students completing second-year field placement at Wheeler, and nearly 100 employees received professional training in evidence-based approaches to care. This fund also supported an exciting expansion of an internship program for bilingual students this year, allowing Wheeler to invest in building a more diverse workforce to meet community need.
"We are extremely grateful for the Libassis' longstanding commitment to our mission and the individuals, families and communities we serve," said Susan Walkama, LCSW, president and chief executive officer, Wheeler. "Their generosity, enthusiasm, and passion for change and innovation have helped to drive many transformative initiatives within Wheeler."
"This fund is designed to catalyze major shifts in organizational processes and activities," said Peter, a retired attorney who held positions in the Johnson and Carter administrations, as well as major U.S. corporations. "It will allow Wheeler to create new programs to meet the needs of individuals and families, cultivate workforce and organizational development, and implement efforts to test and measure change."
The Libassi Endowment fund is part of the Wheeler Fund for Innovation, a family of funds designated to advance innovative approaches to care and service delivery as well as other initiatives across the agency.
The Libassi donation is one of two major legacy gifts to be made by the Libassis. The Bushnell in Hartford—which also embodies a spirit of innovation, according to the couple—also received a commitment to an endowment. Wheeler and The Bushnell are exploring ways to work collaboratively as a way to perpetuate and honor the intention of the Libassi gifts and share lessons and ideas on fostering innovation.
"This gift supports enlarging this organization's role at the leading edge of human services in its existing domains and beyond," said Mary Fran. "More importantly, it serves as a catalyst for others to make financial contributions that support and advance Wheeler's continued growth and transformation."