Diabetes Care Delivery Amid COVID-19: Wheeler's Keturah Kinch Interviewed by Connecticut Public Radio (WNPR)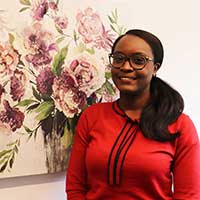 "In many respects, the pandemic really just heightened … some of those already-there issues and barriers that many of our patients face."
A November 10, 2020 Connecticut Public Radio (WNPR) website news story highlights how community health centers are serving patients with diabetes during the COVID-19 crisis. Wheeler's Keturah Kinch, MPA, site director of the Susan Walkama Family Health & Wellness Center in Hartford, discusses how Wheeler is caring for patients with diabetes through telehealth and other services.
Access the story here.
Learn more about how to manage your health during this period, here.