Wheeler Selected as a Top Workplace for the Fifth Consecutive Year, Received Special Recognition in Managers Category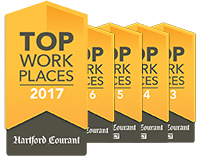 Plainville, CONN. – September 22, 2017 – For the fifth consecutive year, Wheeler Clinic is a The Hartford Courant Top Workplace and received special recognition in the "Managers" category.
"Wheeler's fifth consecutive Top Workplace award reflects the dedication and skills of our employees and the commitment they show every day to individuals, families and communities across our state," said Susan Walkama, LCSW, president and chief executive officer of Wheeler Clinic. "We passionately work toward a shared vision that all people will have the opportunity to grow, change and live healthier, productive lives. I'm exceptionally proud of our team and the care we provide.
"We're also very honored to once again receive special recognition for our managers, for the second time in five years," added Walkama. "We pride ourselves on promoting staff to leadership positions, supporting our managers and empowering innovation among all staff. We can see the results each day in the quality care we provide for the communities we serve."

Wheeler Clinic provides comprehensive solutions that address complex health issues, providing individuals, families and communities with accessible, innovative care that encourages recovery, health and growth at all stages of life. Our integrated approach to primary and behavioral health, education and recovery creates measurable results, positive outcomes and hopeful tomorrows for more than 30,000 individuals across Connecticut each year.
The Top Workplaces are determined based solely on employee feedback. The survey is conducted by WorkplaceDynamics, LLP, a leading research firm on organizational health and employee engagement.
The Hartford Courant will publish the complete list of Top Workplaces on September 24, 2017.
For more information about the Top Workplaces lists and WorkplaceDynamics, please visit www.topworkplaces.com and www.workplacedynamics.com.
Learn more about Career Opportunities at Wheeler.