Visibility Campaign: Shantha Torres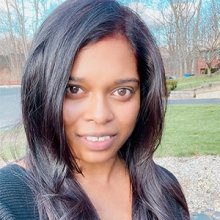 May is Asian/Asian American and Pacific Islander (AAPI) Heritage Month, an opportunity for us to continue our Visibility Campaign series and revisit our commitment to diversity, equity, and inclusion. This month we will increase visibility of our Asian/Asian American and Pacific Islander staff, as well as our staff who have a passion for support and advocacy. Today's spotlight goes to Shantha Torres, paraprofessional at the Northwest Village School.
Shantha has been working in the school for six years before transitioning to a substitute direct care counselor role in Wheeler's congregate care program during the COVID-19 pandemic. Prior to Wheeler, she was a specialty program and camp director for the East Hartford YMCA and an intern for IRIS, a New Haven program that works directly with refugee resettlement.
What are some ways people can advocate for the AAPI community right now? The Asian American community needs advocates. Because of our tight knit community, we place high values on family and pride ourselves in our success and rarely seek help or use resources during tragic times. Therefore, the best way of advocating for this community is to check in. Check in on your Asian American neighbors, check in on your students, check in on your employees. A personal phone call goes a long way. I think Wheeler did a great job of checking in during this moment of tragedy and made us feel comfortable discussing our experiences.
Thank you, Shantha, for sharing today!