Expanded Statewide Support for Youth in Recovery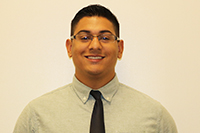 Wheeler has launched a new statewide program to provide additional support to youth in recovery. The Connecticut Recovery-Oriented Support System for Youth (CROSS) initiative is funded by the Substance Abuse and Mental Health Services Administration (SAMHSA) 2017 State Targeted Response to the Opioid Crisis grant (STR) through the Connecticut Departments of Mental Health and Addiction Services (DMHAS) and Children and Families (DCF).
Wheeler has been contracted by DCF to develop and implement a statewide substance use recovery support system specifically oriented to the needs of youth and young adults 16-24 years old. A full-time statewide youth recovery support coordinator, Hector Maldonado, was hired recently by Wheeler to lead this initiative.
"Nationally and in Connecticut, statewide systems for youth substance use recovery support lag behind systems in place for adults," said Judith Stonger, MA, CPS, CARC, vice president of Prevention, Wellness and Recovery, Wheeler/Connecticut Clearinghouse. "This grant will help us develop and expand recovery supports for teens and young adults by engaging youth, families and people in recovery in all aspects of planning and implementation."
CROSS Elements:
Involve families and youth in the design and implementation of statewide youth recovery
Facilitate the development of a statewide recovery support system for youth
Develop a steering committee comprising youth, families and persons in recovery to guide the selection of recovery support service locations
Launch a minimum of 10 SMART Recovery support groups throughout Connecticut
Implement pro-social Alternative Peer Group (APG) activities for young people in recovery
Expand and coordinate the existing SMART Recovery network for young people statewide
Develop a three-year statewide CROSS strategic plan
Host a symposium on youth recovery support services