Sabrina Trocchi, PhD, MPA, Appointed President and Chief Executive Officer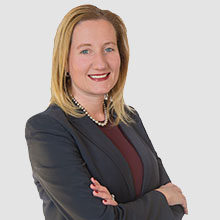 Board of Trustees selects expert in health care, addiction treatment

Sabrina Trocchi, PhD, MPA, has been appointed president and chief executive officer of Wheeler Clinic effective November 2, 2019, the Board of Trustees announced today.
The Board conducted a thorough confidential search process throughout the summer, led by Christine Skelly of West Hartford, Wheeler's outgoing Chair. Susan Walkama, LCSW, who transformed Wheeler into a leading statewide provider of integrated health care services, will retire on November 1, 2019, the organization announced on October 14.
Dr. Trocchi previously served as Wheeler's chief operating officer, overseeing a systemic approach to development and execution of organizational strategy, along with a wide range of community-based and in-home services in children's and adult outpatient, community justice, prevention and wellness, family and community services, congregate care, early childhood, and psychiatric medical, as well as grants development and quality operations. She also had served as the chief strategy officer, overseeing and implementing strategic partnerships, ventures, and alliances for the $77-million organization.
Her leadership came during a time of tremendous change for Wheeler, as the organization evolved from a community-based provider of behavioral health services to a statewide, innovative leader in fully integrated health care and a federally qualified community health center, and grew to serve more than 30,000 individuals and families annually.
"Wheeler's leaders have guided it through transformational times in health care, and Dr. Trocchi has been vital to our growth and focus on our patients," said James Moylan of Bristol, Wheeler's Chairman of the Board of Trustees. "Her deep expertise in health care systems, integrated care, evidence-based practices, addiction treatment, and more is the perfect fit for a visionary organization like Wheeler that is always looking to community priorities today, and the future of health care tomorrow."
"Every day at Wheeler, the board and my 1,000 colleagues share my commitment to make sure we put our patients first, and pull in every resource we have to help them achieve wellness. We know this approach gets the best health outcomes for everyone who comes to us," Trocchi said. "With a continued focus on those outcomes and quality, I'm honored to be selected to lead this great organization, and I'm excited about what is ahead of us all."
Prior to joining Wheeler in 2014, Trocchi served in a number of leadership positions with the Connecticut Department of Mental Health and Addiction Services, including as chief of staff. She was responsible in directing the planning, development, and garnering of over $170 million in new federal funds for the expansion and enhancement of clinical substance abuse and/or mental health treatment and prevention services. Trocchi provided leadership and direct oversight to DMHAS' six state-operated local mental health authorities, with over 1,600 staff, including planning, developing, and directing clinical and administrative programs and services in accordance with policies established by the commissioner and in response to local needs.
Trocchi holds a Bachelor of Arts degree in political science from the University of Connecticut, a master's degree in public administration from the University of Hartford, and a Ph.D. from the University of Connecticut Health Center, focusing on public health with a concentration in behavioral health. She is an adjunct professor at the University of New Haven.
Walkama served as President and Chief Executive Officer for more than a dozen years, and began her career at Wheeler nearly four decades ago. Skelly praised her commitment to Wheeler's mission and everyone the organization serves.
"Susan has been an exceptional leader through unprecedented change," said Skelly. "She did not chase trends, but led Wheeler to the cutting edge and lit a path for everyone to follow. Her strategic vision of quality, accessible health care for all shaped every decision, in every area. Wheeler's board, staff and, most importantly, the individuals and families we serve, are all much better for her work. Her legacy lives on in every consumer and patient whose life has been changed through Wheeler's services."
About Wheeler Clinic:

Wheeler provides comprehensive solutions that address complex health issues, providing individuals, families and communities with accessible, innovative care that encourages health, recovery and growth at all stages of life.Our integrated approach to primary and behavioral health, education and recovery creates measurable results, positive outcomes and hopeful tomorrows for more than 30,000 individuals across Connecticut each year: www.wheelerclinic.org