Wheeler Sponsors Rockwell Park Summer Festival, August 19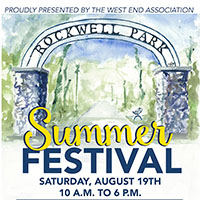 Wheeler is a sponsor of the sixth Annual Rockwell Park Summer Festival in Rockwell Park, Bristol. The event, presented by Bristol's West End Association, takes place on Saturday, August 19, 2017 from 10 a.m. to 6 p.m.
The event showcases dozens of local regional and local organizations and includes a variety of music and dance performances, arts and crafts, food, kids' activities and more. Thousands of individuals and families from Bristol and the surrounding communities attend each year.
The Wheeler team and Health Ambassadors from the Mott Corporation will be on hand throughout the day, providing information about programs and services, as well as free blood pressure screenings, children's crafts and more.