One Foster Home: Many Lives Changed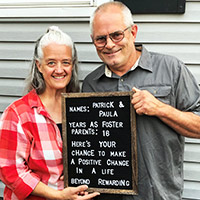 Many people talk about wanting to make a positive change in someone else's life. Paula and Patrick Mills moved this quite literally into action 16 years ago, becoming foster parents with Wheeler in 2004. Since then, they have fostered nearly 70 children and youth and adopted five.
Click here to get started on the path to foster parenting.

"Positive change happened in the lives of the children we fostered as well as in ours," said Paula. "The role of a foster parent is beyond rewarding, and for people looking to make a meaningful difference in the life of a child, here's your chance."
The Millses characterize the Wheeler staff as being very professional and extremely helpful, working with and supporting members of the entire family. "Even after adoption, Wheeler is always there for us, thinking of us, and involving us in fun events, celebrations, and holiday parties," said Patrick.
"I love all the advice and support the staff provide. They are always there to help in any way we need," added Paula.
Paula and Patrick have lots of practical advice for parents who begin the foster care journey, but perhaps the most useful, according to Paula, is not to take anything personally. "And, no matter how challenging things may seem, always remember to just breathe."
Contact our caring team of Foster Care specialists at 860.793.7277.