Connecticut Clearinghouse Hosts Day-Long Observance of International Overdose Awareness Day - August 31, 2017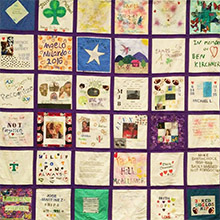 Updated September 1, 2017 – Wheeler's Connecticut Clearinghouse hosted free opioid and drug prevention community trainings in observance of International Overdose Awareness Day on Thursday, August 31, 2017. The event was presented by Wheeler in collaboration with the Connecticut Department of Mental Health and Addiction Services (DMHAS) and provided members of the community with practical information and tools for addressing the opioid crisis. Department of Mental Health and Addiction Services Commissioner Miriam Delphin-Rittmon, Ph.D., offered remarks, and throughout the day attendees had the opportunity to make their own Remembrance Quilt square in honor of a loved one lost to addiction.

"This observance was one of several happening nationally. It was an opportunity for attendees to gain useful information and resources about drug use and opioid overdose prevention, as well as honor the lives of loved ones by creating squares for the state's Remembrance Quilt," said Judith Stonger, MA, CPS, CARC, Wheeler's vice president of Prevention, Wellness and Recovery. "In 2016, Connecticut overdose deaths rose to 917, with 94 percent involving opioids. We hope that individuals who attended this event will be better equipped to recognize and prevent drug use and save lives in the event of an overdose."
The event featured the following trainings:
10:00 am Naloxone 101 Training
Participants learned the following:
Information on opioid use, misuse, and addiction
Connecticut opioid use and overdose data
Various options of Naloxone/Narcan administration
Signs of overdose and how to effectively respond
2:00 pm "Hidden in Plain Sight" Drug Prevention Training
Helped parents, adult family members, and other adults who interact with youth to:
Understand the types of inexpensive, easily accessible products available to youth to hide drugs and paraphernalia "in plain sight"
Recognize warning signs of drug use, both obvious and hidden
Practice skills for having tough conversations with young people in their lives
Learn about resources available in their community
6:00 pm Naloxone 101 Training
The statewide Remembrance Quilt initiative was launched by the Connecticut Department of Mental Health and Addiction Services earlier this year to honor loved ones who have died from substance use disorders or addiction. The first quilt is now complete and has been displayed at a number of venues including the Legislative Office Building.
Participants had the opportunity to create a square in honor of their loved one, which will be added to a
Remembrance Quilt.
About International Overdose Awareness Day
In 2001 International Overdose Awareness Day originated in Australia to raise awareness that the tragedy of overdose death is preventable. Over the years, the movement stretched across the world with community, government and non-government organizations working hard to raise awareness and commemorate those who have been lost to drug overdose. www.overdoseday.com
About Connecticut Clearinghouse
Connecticut Clearinghouse is a statewide library and resource center for information on substance use and mental health disorders, prevention and health promotion, treatment and recovery, wellness and other related topics. Materials from our specialized library and resource center are available to Connecticut families, teachers, students, professionals, communities and children. A program of Wheeler Clinic's Connecticut Center for Prevention, Wellness and Recovery, the Connecticut Clearinghouse is funded by the Connecticut Department of Mental Health and Addiction Services. Learn more: www.ctclearinghouse.org.